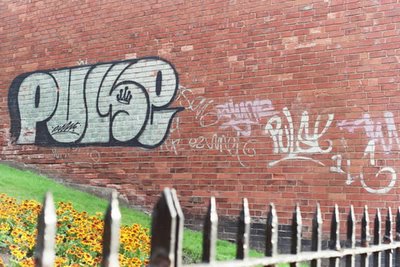 I've been writing a play about growing up in
Nottingham
for some time, the first seeds were sown back in 1999, the idea from way before then and the funding came in 2001 but it kinda ground out to a halt after all that. Loss of faith from others a painful inability by me to spill my blood on the keyboard.
December has been spent trying to finish it thanks to a kind nudge from Keith Hukin at Reform Theatre. Now I have to try and get it put on somewhere, find an agent and email it to my friends to read.
It's been a labour of love, a true story that needs to be told, here is the end of the play...
DANNY
He said God needed him there and that it was his time to go. He said that his time was done on this earth and he was needed by Jesus in his kingdom of eternal peace and it may seem early in his life but God's calling comes to us all at different times and let us be grateful for the time that we he had with him…
MICHAEL
Grafteful? Fuckin' grateful for what?
DANNY
…And remember all the good times and fond memories and let us cherish the thought of him deep in our hearts and he played his favourite song and it wasn't even his favourite fuckin' song. But he's not sitting with the angels in heaven is he? He blew his fuckin' brains out. He blew his fuckin' brains out all over the Rec and he did it cuz he was so fuckin' sad, so fuckin' sad and empty and angry and broken and lost and everything…
MICHAEL
They don't let his sort into God's kingdom Danny, that's why the vicar had to lie and keep it all a secret.
DANNY
They're liars.
MICHAEL
Stone wouldn't want to be in God's kingdom anyway.
DANNY
Cut me up seeing Stone's mum, seeing her sit there, being so brave while everybody else cracked up around her.
MICHAEL
All those tears rolling down people's faces, all that noisy crying, it did my head in.
DANNY
That noise she made, when the coffin disappeared behind the curtains, it cut me in half. I stuck my nails into my palms, I bit my tongue.
MICHAEL
This is doing my head in.
DANNY
I was alright until she touched me, until she hugged me and I could feel her shake with the pain.